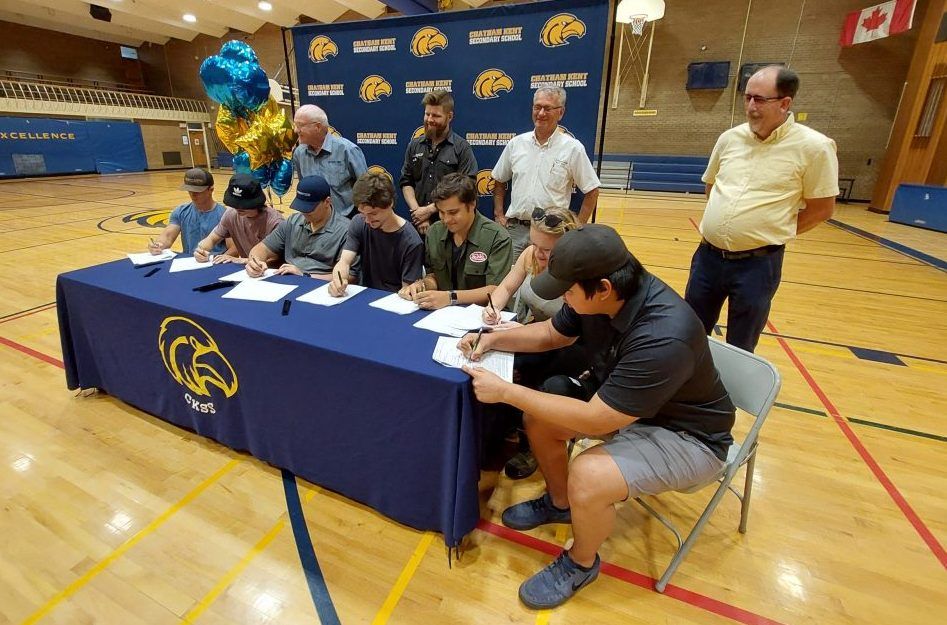 High school is over for seven students from Chatham-Kent High School, but they won't wait until September to continue their studies.
Content of the article
High school is over for seven students from Chatham-Kent High School, but they won't wait until September to continue their studies.
Content of the article
They are immediately launching their careers in the skilled trades after signing agreements for apprenticeship positions with local businesses shortly after the last school bell rang on Thursday afternoon.
Ethan Purdy, 19, started his apprenticeship Friday at The Shop in Chatham after doing co-op at the garage last semester.
"I always knew I wanted to do an apprenticeship when I wanted to get into mechanics," Purdy said.
Having learned the basics in school, he said working in a real car garage was completely different.
"You come across a lot of different things, mostly what you don't expect," Purdy said.
Shop owner Travis Peters said Purdy is already the second co-op student he has had since opening about nine months ago.
Peters said Purdy had done well during his internship, so he decided to offer him an apprenticeship.
Purdy said Peters has already taught him a lot.
"It's awesome."
Seventeen-year-old Drake Duplessis has spent this semester doing a co-op placement at Dale Electric after working there last summer.
He is already well advanced in his apprenticeship in electricity.
"I've racked up nearly 500 hours and learned a lot," Duplessis said, noting that included how to be safe on the job.
"I found out pretty quickly everything you do, you have to take your time. You can't rush things," he said. "There are consequences if you don't do something. good, especially with electricity."
Duplessis likes to learn on the job and is not afraid of not having a so-called traditional college or university experience, such as living in residence.
Content of the article
"It looks like a waste of money," he said.
Instead of racking up student loan debt, Duplessis said he could actually "start making money right from the start."
Seventeen-year-old Nathan Johnson, who is learning at Honey Electric following a co-op placement over the past semester, knows what he wants in terms of life goals and sees the learning journey as a to get them sooner.
"It's a way to start life early, to get ahead of everyone else," he said, "whereas if you're on programs, you might get into a bit of debt and have to play the catch-up game. later in life."
Johnson is following in his father's footsteps. He thanks his father for getting him interested in the field by bringing home motors and other devices from his job at Accurcast in Wallaceburg to teach him how they are wired.
"For me, it's always been a passion for me that I've always wanted to turn into a career," he said.
Johnson also enjoys learning on the job.
"Every day is something new. That's the beauty of being with Honey Electric – they have such a large customer base," Johnson said. "One day you might do a simple lighting job; the next day you are working with engines and industrial equipment. »
Dale MacDonald, owner of Honey Electric, said the company had accessed Chatham-Kent High School's co-op program several times over the years.
He noted that there is growing interest in becoming an electrician, saying the company receives a mix of applicants from post-secondary programs and straight from high school.
Content of the article
"What I see sometimes is that people have gone to college and maybe even got two degrees, but they can't find jobs," MacDonald said.
He added that these candidates realize that having a skilled trade offers some job security.
"A good electrician will never be out of work," MacDonald said.
He said Honey Electric also had the means to sponsor their apprenticeships through a trade school.
"It's an investment in our future employees, so we don't mind that," MacDonald said.
John Veenema, body shop manager at Heuvelmans Chevrolet Buick GMC Cadillac, said he put about 10 high school students into the business.
"I've been a big proponent of the (co-op program) for years," he said.
He always used the co-op program because "fixing cars or a lot of things you do with your hands is hands-on learning."
"It is very important to use the cooperative program. I would love to see more done," Veenema said.
Chatham-Kent High School teacher Brian Leidl agrees, noting that the high school has many recurring businesses, but also seeks to work with new businesses on co-op programs.
"If they need a skilled tradesperson, what better way to get them out of high school and train them however you want," he said.