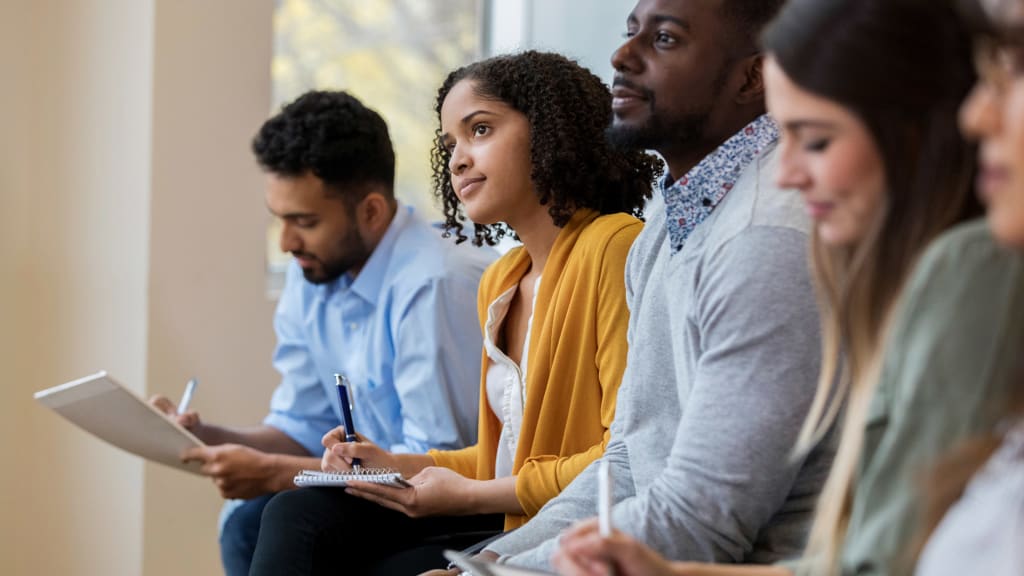 [ad_1]
Claire Angelle, a Organization of entrepreneurs (EO) Accelerator participating in Atlanta, founded Angela Conseil–a mission-driven PR firm – in 2018. Claire is fueling positive change by raising the voices of business leaders determined to do well by doing good. We asked Claire why she joined a business accelerator program to help him grow and develop his business. Here's what she shared:
As a solopreneur, I seek to take my business to the next level. Joining an accelerator program has helped me take this step of faith, despite my humble beginnings.
Born and raised in France, I moved to Atlanta in 2007 to work in communications for the French foreign service. Used to uprooting my life, when I had the opportunity to move to New York and work for a renowned media group, I jumped at the chance. However, within six weeks said media group faced insurmountable financial hurdles and I was fired along with most of the employees.
Before that day, I never had the idea of ​​being an entrepreneur. Overnight, I registered an LLC out of sheer necessity, relying on my communication skills and my network. To my surprise, Angelle Consulting was profitable from the first month and I have never looked back. I returned to Atlanta's warmer climate shortly thereafter. Quickly, my clientele grew thanks to word of mouth. A clear vision has emerged: to raise the voice of business leaders committed to doing well by doing good through public relations and strategic partnerships.
Recently, I moved beyond my small network of sub-contractors and realized that my business needed a sophisticated structure to meet growing demand. Most importantly, I want to expand our impact. What if we could help hundreds – instead of a dozen – of companies showcase the incredible work they do to make the world a better place? Companies are moving further and further away from "doing no harm" in favor of a positive footprint. I want to be a resource for SMEs who preach and aspire to have their stories told and amplified.
As I explored podcasts and books on how to scale, I found countless excuses to maintain the status quo. What was missing was a peer-led structure in which I am not just told what to do but where I benefit from the experience of those who have done it before me. The other thing I needed was accountability: a platform that allowed me to set ambitious goals and a framework to report on my progress.
I often tell clients that there are two powerful motivators in life and therefore in communication: desire and fear. I found both in the OT Accelerator. It inspired me to reach new heights by witnessing the success of fellow entrepreneurs – which sparks desire. It also comes with a sense of responsibility to my peers to take full advantage of this unique learning opportunity and deliver – which inspires fear.
The program also offers a unique sense of community. It is a place to be genuine and vulnerable. After all, many of the obstacles I face in business are not operational; they are psychological: fear of failure, fear of financial loss, fear of success itself. I couldn't have found a better place to grow as a business leader.
However, finding your tribe is very personal. For emerging and seasoned entrepreneurs looking for resources to grow and scale, I have found the following steps helpful:
Identify what is holding you back.
If these obstacles revolve around specific sensitive points (pricing strategy, contractual arrangement, internal KPIs or processes), you can find solutions through readily available resources or subject matter experts.
Determine your growth needs.
If these needs are general in nature (strategic planning, hiring practices, or cash flow management), accelerators are ideal because they offer a wide range of learning opportunities. However, if your needs are very specific (eg, international expansion, mergers and acquisitions, or an industry niche), you may want to look for more targeted programs, such as export offerings or trade associations.
Evaluate your learning style.
Some learn best with a concrete roadmap that tells them what to do every step of the way. Others, like me, learn best by listening to the experiences of others and adapting that learning to their own circumstances. There are countless business accelerator programs out there, one for every learning style.
Getting into my accelerator journey feels like an act of faith. It's exciting, invigorating and scary at the same time. For a long time, I thought that what defined entrepreneurs was the absence of fear. Now I embrace and transcend this fear and encourage others to do the same. It is a question of purpose. It's about courage, resilience, and that restless muscle. It's about being a problem solver at heart.
[ad_2]