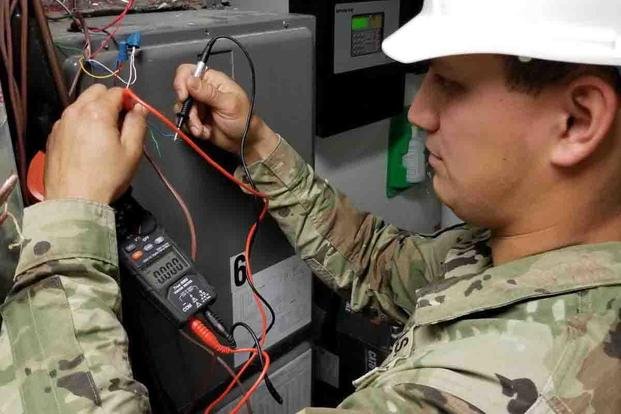 Anyone who has had heating or air conditioning work done on their home in the last couple of years can tell you that finding a good HVAC technician is difficult. It's not because they're not there, it's just because they're fully booked – there just aren't enough HVAC techs.
The shortage is a problem for large companies like Trane, the maker of commercial and residential HVAC products, which rely on their distributors for the labor needed to get their products into homes.
The HVAC industry itself, like many skilled trades, is experiencing a huge labor shortage to the tune of 122,000 skilled technicians. This shortage creates a job opportunity for transitioning military members, veterans and employers, a sentiment shared by RightTek HVAC training partners Bill Timberlake and Anthony Maynor of Raleigh, NC.
"It comes with a starting salary of around $45,000, with no college degree," Timberlake told Military.com. "Then you realize in two years that most techs with overtime and bonuses can make $80-90,000. That's good work for money."
Timberlake has been in the HVAC business for nearly 30 years. He got his start after enlisting in the Navy. He attended the University of Maryland to study mechanical engineering before returning to the Navy as an officer in the Corps of Engineers. He even taught at the US Naval Academy before retiring in 2004.
Maynor did not serve in the military. He worked in HVAC for most of his adult life, running his own HVAC business for over two decades and becoming a household name in Raleigh. The couple both trained students at a local college before reuniting in 2018 and founding the RightTek training school.
RightTek training is unique in that it distills the local college's one-year training program into a two-month course. In 2021, Maynor and Timberlake saw an opportunity to move the school to nearby Fort Bragg, which wanted an HVAC training program as part of the Army Vocational Skills Program.
"We talked to Trane about possibly getting the ball rolling," says Maynor. "Trane is truly considered the premier distributor and manufacturer of heating and air conditioning systems in the world. They showed great interest and we teamed up to bring it all together.
Trane now provides student equipment as well as after-hours access to in-house learning management systems training programs and Trane e-learning modules.
"Trane wants our veterans to do the right thing," says Dottie Goebel, Dealer Experience Manager at Trane Residential. "Nothing suited our dealerships who are desperate for technicians and installers. The shortage of technicians and installers in the industry increases every year as people retire and no group is more deserving than our veterans."
Trane also ensures there is no out-of-pocket for soldiers who want to learn HVAC through the Trade Warriors program. The cost of participation is covered by HVAC dealers who hire graduates of the program, which has a placement rate of nearly 100%.
Prospective students do not need mechanical engineering or HVAC experience to apply. They need only bring the discipline the army has instilled in them to the intensive eight-hour-a-day, four-day-a-week training (Fridays are excluded so soldiers can take care of military duties). separation on the base).
In week two or three of the program, soldiers will begin interviewing, subject to program completion and separation from the military. Soldiers then become Trane Certified Technicians after passing the EPA (EPA608) and NATE Ready-to-Work exams at the end of the program.
Although they also receive 1,000 hours of experience out of the 4,000 hours required for North Carolina HVAC licenses, the program's placement focus is not limited to North Carolina. Trane is looking to grow its dealership portfolio across the country to create more opportunities for veterans.
"Everyone who completes the program has been extremely excited about the doors it has opened for their potential future career paths," Timberlake said. "To be able to work in the civilian sector, provide for their families and their future with job security. For a lot of these guys coming out of the service, where they're doing something that maybe doesn't translate into civilian life, it gives them a direct route from the military into the civilian world, and I think that's part of why it's been so popular."
While the Trane Trade Warriors program is currently only at Fort Bragg, the program will soon expand to Fort Hood in 2023 with plans for a later expansion to Camp Lejeune.
For more information, search for the Trane Trade Warriors program on the DoD SkillBridge website, contact RightTek HVAC Training, or visit your local Career Skills Program office.
— Blake Stilwell can be reached at [email protected] It can also be found on Twitter @blakestilwell or on Facebook.
Want to know more about veteran jobs?
Be sure to get the latest news on post-military careers as well as essential information on veteran jobs and all the benefits of service. Subscribe to Military.com and receive personalized updates straight to your inbox.
Show full article
© Copyright 2022 Military.com. All rights reserved. This material may not be published, broadcast, rewritten or redistributed.