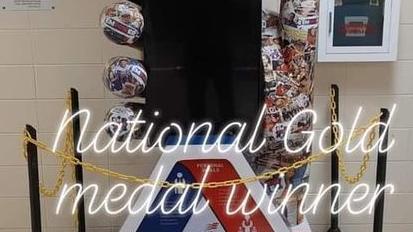 [ad_1]
SkillsUSA is a partnership of students, educators, and industry working together to ensure America has a skilled workforce, a critical need to keep the nation competitive.
The organization helps middle school, high school and post-secondary students excel in their preparation for careers in trade, technical and specialty services, including health.
As part of this process, the SkillsUSA Championships are career competitions featuring the nation's top vocational and technical training students. Competitions start locally and continue at state and national levels, and reaching that next level are just the brightest and most accomplished students in the nation – and we have several in Northeast Tennessee.
The Chapter Display team at Sullivan Central High School took first place in this year's competition, and three teams from Volunteer High and Sullivan East High took third place in other categories. Sullivan and Hawkins County High Schools were among schools across the country that provided more than 3,700 vocational technical education students for the SkillsUSA 2021 Championships, which took place virtually June 14-24.
The SkillsUSA Championships are the world's largest skills competition. Students were invited to the event to demonstrate their technical skills, workplace skills and personal skills in 107 professional and leadership competitions, including robotics, automotive technology, drawing, criminal justice, la aviation maintenance and public speaking. Industry leaders from 650 companies, corporations, trade associations and unions assessed applicants against their standards for entry-level workers.
These talented students are to be commended for their significant achievements.
• Team E, made up of Jackson Broadwater and Brookley Meadows from Sullivan Central High School in Blountville, received the high school gold medal in Chapter Display. Their sponsors were Lloyd "Sport" Putney and Rhonda Flanary.
• The Sullivan East High School Crime Scene Investigation Team won the high school silver medal. The Bluff City area school members are Zoe Johnson, Zoe Dougherty, and Emme Fox. Ty Boomershine is their teacher.
• Ethan Jones of Sullivan East High School ranked between fourth and ninth nationally in CNC milling, but does not yet know his exact placement, said teacher Jamie Gray.
• Aedyn Mullins of Church Hill, a Volunteer student, received the high school silver medal in action skills.
• Atlee Dean of Church Hill, another Volunteer student, received the high school silver medal in professional skills demonstration.
• Eliza Smith of Surgoinsville, a student of Volunteer, received the high school silver medal in improvised speaking.
• Students in Sullivan County schools won 22 medals, including 18 gold, three silver and one bronze.
Statewide, Sullivan East is tied for most medals from a single school at 13.
Congratulations to the students, schools and supporters. Over 3,700 students from all states participated. You are the pride of our region.
[ad_2]